When people said they'd have a bright future, they weren't kidding.
Seth and Stephanie Schramm established Schramm Electric in 2008. In the beginning, they ran the company out of their home while keeping their regular jobs. Seth went full-time first once the business got off the ground and Stephanie followed a year later. In February, 2013 they opened the Schramm Electric office on Lakeport Avenue. With continued growth and a need for more space in May, 2014 Schramm Electric transitioned into a new office and warehouse on Line Drive.
Today the ambitious young company has a staff of full-time electricians and is wired into some of the biggest jobs in town. Their reputation for solid relationships, quality customer service and deep knowledge of the industry keeps clients coming back and continually builds new ones.
Seth: With nearly 15 years of expertise as an electrician, Seth is a full service Certified Master Electrician with licenses in Iowa, Nebraska and South Dakota. Seth is a military veteran, a hockey fan and the owner of Schramm Electric.
Stephanie: Stephanie holds a degree in business from Iowa State and works hard to keep Schramm Electric organized and efficient. She's the friendly voice answering the phone and the person who stays on top of every job. Stephanie is a proud hockey mom and helps run Schramm Electric with her husband Seth.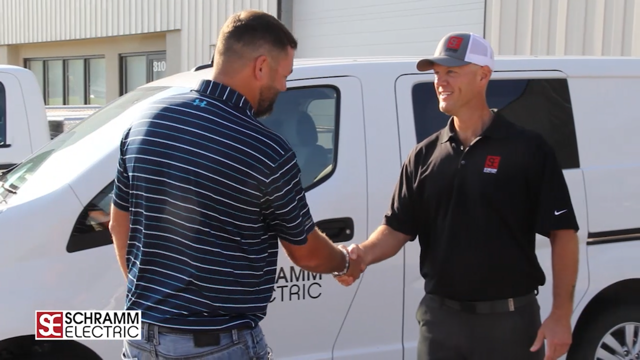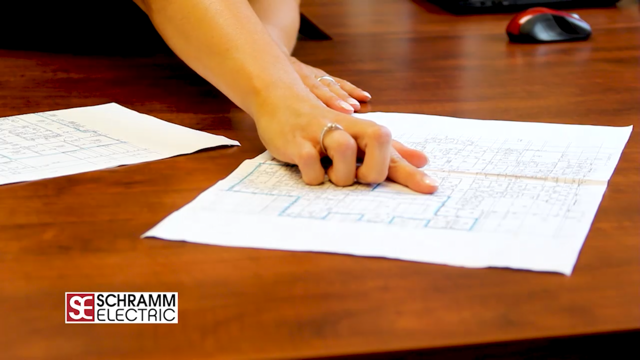 Seth was first exposed to basic electrical circuitry and components in the US Navy working on board naval ships. Upon completion of active duty, he entered the five-year electrical apprenticeship to learn the trade. Looking to further his skill set, he was chosen as an electrical project manager for a large beef processing facility overseeing continuous upgrades at three facilities working with numerous electrical contractors and hundreds of electricians on various projects.
He saw the need for a local electrical contractor with the ability to oversee projects with the customer's goals in mind and a commitment to providing projects on time, on budget and up to code.
Seth's wife, a business major from Iowa State, was pregnant with their third son and together they started laying the foundation of what would become Schramm Electric. Starting with obtaining their licenses, registering with State and local municipalities, insurance and bonding. They started very small, a used minivan & basic tools.
The past ten years have been exciting and rewarding to Schramm Electric, now with multiple employees, service vehicles, equipment, and a new office they are further solidifying their relationships and commitment to their customers.
We're proud to have worked with these leading companies and provide them with quality, professional service for their electrical needs.
MidAmerican Energy
Facility Lighting Upgrade
Tyson Foods, Inc.
Continuous facility electrical upgrades and expansions at numerous locations.
City of Sioux City Transit Operation
Commercial building lighting audit and upgrade to existing building.
KTIV Channel 4
Complete building remodel, office addition, studio upgrades, lighting upgrade, & conversion to HDTV. All work was completed in phases to allow the staff to remain occupied and conduct day to day news operations.
Cloverleaf Cold Storage
Office & break room area remodel. All work was completed in phases to allow the staff to remain occupied and conduct day to day operations.
Sioux-Preme Packing
Continuous facility electrical upgrades and conveyor system upgrades.
Plumbing & Heating Wholesale Distribution
Commercial warehouse remodel consisting of reworking existing lighting to facilitate installation of racking system. Office, bathroom, & kitchen and bath showroom area remodel. Shipping & receiving building addition.
St. Joseph Catholic Church Parish Hall
New construction consisting of a new chapel, offices, conference rooms, kitchen, & parish hall.
Brown's Lake Tornado Shelter
New construction of the first campground facility in Woodbury Co. to offer a tornado safe location meeting stringent FEMA guidelines to qualify as a tornado safe structure.
"Thank you to you and your staff for such a quick response to our need last night. This is not the first time we've called and every time we have, your customer service has been outstanding. Schramm Electric was a tremendous asset to KTIV last night and we thank you for being so wonderful to work with."
"You did an awesome job for us!! Thanks for being so prompt, efficient & affordable! We are telling all our friends about you! Much appreciated!"
Seth Thank you so much for your prompt & professional service. It was great to work with you. Keep up the great service and you will be very successful!
Thanks for the fast response time in getting out to the transmitter site yesterday morning! Your dedication, knowledge and skill make you the best in the business!!!! Sorry to both you and Stephanie for waking you at that time of the morning. Again thanks from Bridget, Dick, myself and all of KTIV News 4.
Thank-you Nice job! Will refer others to you. Nice talking with you Seth. You are a nice young man.
Schramm Electric company and their employees have worked in many of the sub ops yards and control houses. Their installations speak for themselves, the work is done in a professional manner and installations are top notch.
"Just wanted to write a short thank you for your service the times you have been to the house. I have always been very pleased with the work that has been done and the friendliness and professionalism with everyone. I would definitely recommend and call on you for future needs."
"It is so beautiful to have young people, like you, on Earth! – and also to have family owned businesses who have Christian values. I have felt such trust in your business since the first time we discussed the electrical work needed in my home, the quality and expertise of the work, initially, by you and the jobs Jeff has done since then. I always recommend your business!"
Learn more about Schramm Electric, our projects, clients and culture.

Business

This month we are celebrating 10 years of being in business!
Read More »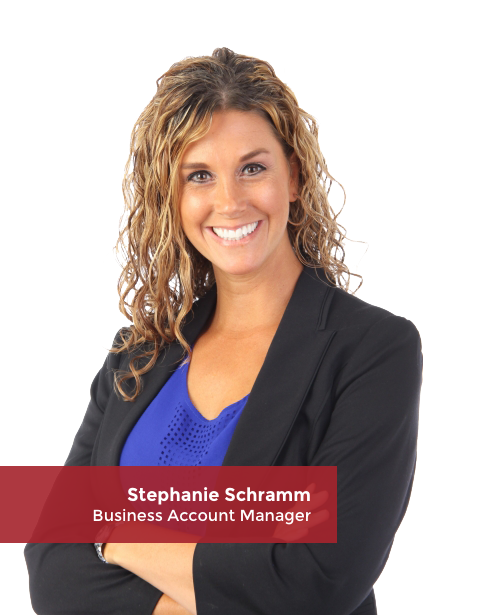 Get in touch with us today to talk about your next project or current electrical needs. We'd be happy to provide a free consultation for your business or home.